2004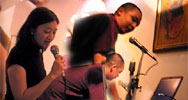 GREEN PAPAYA ART PROJECTS: Urban Gulaman Assembly: Jan 29, 2003
CLONE played live at the small art gallery alongside Radioactive Sago Project, Drip and Wahijuara. Ria Mariano made her debut with the group in the 35 minute vocal set.
2003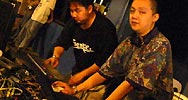 PREMIER THX PARKING LOT: NEW WORLDS, 1st Philippine Sci-Fi Convention:
Mar 12, 2003
CLONE played live alien music tinged with sci-fi samples at the sci-fi con. There were people in costume (Alien, Borg, X-men), there were booths selling toys, books, games, videos, and more merchandise. There was the screening of Star Trek: Nemesis. And amidst all the geekery, CLONE felt right at home!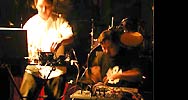 MILLENNIA BAR: Chopsuey Zine Launch:
Feb 22, 2003
CLONE was the 6th of 6 performers, including Huh? Alkoholokaust, and 3dayMarathon. We were the cyberpunks after all the punk bands finished. Joining us onstage was Armand Quimpo on guitar. This was also the day we finished the "Answer the Plunderphone" E.P. so we played the fresh material: all at 160 bpm and preoceeded to overload the speakers.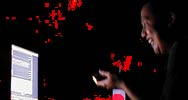 BRASH YOUNG CINEMA: Jan 11, 2003
This was the post-new year electronic music party for Indiefilipino.com and Brash Young Cinema and friends. In a totally D.I.Y. move, we brought 3 amplifiers and our mixer and our gear. Instant rave.

CROSSROADS77 Coffee Shop: Jan 10, 2003
It was an early evening downtempo groove thing, with an incorporated poetry jam. A whole bunch of people brought their verses and read 'em out while CLONE performed downtempo backing music. Guest vocalist at this gig singing "Cry" was Ria Mariano.
2002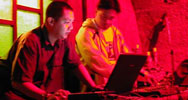 SANCTUM: ElectronicaManila ReCital:
Dec 14, 2002
At the semi-monthly recital, CLONE finally decided to show up as a group and play as an instrumental duo. No MIDI sync, no plans. Instant jam.
CROSSROADS77: The House Rules:
Nov 29, 2002
The activity was organized by The Friday Exchange, in tandem with Crossroads77, a progressive Christian church in Quezon City. CLONE had a 45-minute all-dance set in between DJ Ann Barcelona and another DJ from BigFish, TC. There was a collaboration with two Exchange artists, Goya Bulahan on vocals and Em, a keyboardist who played trance on his Korg keyboard/sequencer.

2001
KEMISTRY: Recital: Jan 25, 2001
This was an untitled electronic recital for Karlo, now called LONE.
2000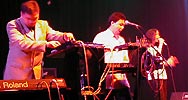 MUSIC MUSEUM: Strange Daze : Dec 29, 2000
Clone's second time at the Music Museum was actually a learning experience for all. First lesson: don't go to a wedding right before the gig. It harries your nerves. Second lesson: don't drive on through your set without a proper sound check-- even if you must sacrifice your first song as the sound check. Despite problems however, the group (rejoined by founder/drummer Andre Quimpo), did three songs, "Vigil", "Presence" and "Nothing Yet" to an audience that was more primed for the eclectic indie/prog rock that the other bands played that night.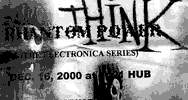 1421 MABINI : Phantom Power : Dec 16, 2000
This was Clone's first time at 1421 Mabini-- a small hole-in-the-wall venue along A. Mabini in Malate, that caters to the underground rock scene. The crowd was mostly made up of young students, there to watch their classmates perform. Clone opened for First Degree and was warmly received by the crowd despite the apparent bias towards rock. That, plus the fact that one of Clone's supporters from the US, Dennis Villacorte showed up to support the group, contributed to a pleasant gig for all. [view the flyer ]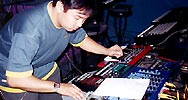 KEMISTRY: Nothing (recital) :
November 30, 2000
Clone's resident samplist and funnyman Karlo Samson took the stage solo beside five other performers... for an electronic recital at Kemistry. He played a straightforward piece entitled "Rocket Summer" inspired by Ray Bradbury's The Martian Chronicles. Lionel and Sheerin were there to cheer him on.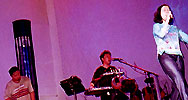 CROSSROAD77 : Land21@soulwalk : November 24-25, 2000
This was Clone's first time to play in a church setting, though the place was arranged for a weekend expo of sorts: booths were at the sides, surrounding the main stage where a variety of mainly pop groups performed. Except for CLONE.
___ The Friday night show, Clone played at around 10:30 pm, after the rousing pastor's speech about how Beethoven and Bach were considered cutting edge in their day, and how we must change and embrace the new... or die. The crowd, surprisingly was primarily younger than 30 and quite open to the music, especially since the band made it clear they were drawing from liturgical themes. This also marked the group's first reunion gig with Andre Quimpo.
___ On Saturday, Clone performed at around 5:30 pm and was unfortunately without Sheerin's vocals once again. Karlo, Lionel and Andre managed to turn this around however by playing more instrumentals than songs requiring vocals and sacrificing audience impact for emotional honesty. It's interesting to note that right after Clone, acid jazz stalwarts Parliament Syndicate played.

MAYRIC'S: Phantom Power : November 18, 2000
Once again, the regular electronicfest, this time the line up had only Clone, First Degree and screaming rockers Loss Of Control. This gig marked the first major performance without vocalist Sheerin. Lionel took over vocal duties and the group performed as a duo that night.
___ Since Synactix could not make it, a spontaneous jam session ensued with Clone and First Degree teaming up for the first time. It was agreed that the jam session should be repeated in the near future.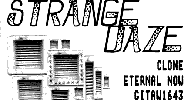 FREEDOM BAR: Strange Daze :
November 15, 2000
Organized by Butch Maddul of Buddhafield Productions, this was the first in what is now a quarterly variety show. The show featured the electronic musings of Clone, several blues bands, a world music collective, several rock bands, an experimental noise group and even the bebop/rock fusion of Radioactive Sago Project. Clone ensured they played first so that they could set up without tension. [view the poster ]
MAYRIC'S: Phantom Power : July 29, 2000
Organized by Synactix' Marck Laccay, this monthly electronica-fest hosted Clone along with other unsigned, underground acts in Metro Manila including: Synactix, First Degree, and Rumblebelly.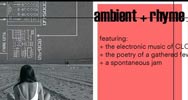 BIGSKYMIND: Ambient + Rhyme :
April 2, 2000
Organized by the band themselves, "Ambient + Rhyme" mixed their electronic music with the organic poetry of their invited guests and friends. The gig was held at an art space precisely, and between their two sets, the mic was turned over to anyone willing to make a go with their verses while Karlo & Lionel improvised background ambience. A spontaneous jam session followed. [view the flyer]
LAVA LOUNGE: March 31, 2000
Part of the Lava Lounge weekly live gig, Clone performed two complete sets with a kaboodle of supporters and curious walk-ins present. The band's trip-hop/nuovo-lounge sound blended in perfectly with the bar's ambience.
1999
LAVA LOUNGE: Halloween Party: October 31, 1999
This was the band's first time in a bar setting. This one was arranged so that on the main stage outside, electronic duo Rubber Inc spat out their aggressive bubbly brew of techno while inside the Lounge, Clone cooled off the audience with their midtempo vibes. Two full sets. The band filled the lounge with their friends so everything was warm and toasty and all the music was appreciated.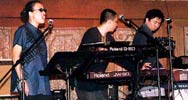 ZU: Channels Magazine Anniversary: September 1999
At the anniversary of mainstream entertainment magazine, Channels, the band played a tight set to a crowd of head-scratching advertisers and press people. The performance was a rousing one nevertheless, and the band made do with the limited time to impress its electronic agenda on the unsuspecting crowd. Clone is proud that they got an exchange deal as payment. They went home with brand-new CD players.

MUSIC MUSEUM: Underground Techno :
June 18, 1999
Along with techno bands Synactix & First Degree, Clone put up a show that allowed their voices to be heard a bit more. The Music Museum gig was the first performance for newly-recruited vocalist Sheerin Castillo and her trial by fire. Unfortunately, Andre could not make it for the gig. But all in all, it was an excellent start for the new line-up.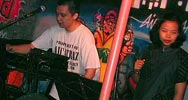 ORA CAFE: April 1999
Once again at the art venue, CLONE teamed up with electronic-rockers First Degree for a night of music that was half-performance and half-practice. Experimentation was key. The band got paid PhP 30.00. That was 10 pesos each. It was a proud moment for each of them...and they're not kidding!

ORA CAFE: February 8, 15, & 22: 1999
The band's debut performances as an instrumental unit, initially as a duo with Lionel on keyboards and Andre Quimpo on drums and the occasional keyboards. Later on as a trio with Karlo on samplers and keyboards and Andre solely on drums & percussions. The audience present were primarily underground musicians and bands.
ORA CAFE: January 1999
Clone started out as a solo unit (Lionel), providing background music for a poetry night at the art cafe in QC. The invitation by cafe owner Khavn dela Cruz provided the catalyst for seeking more musicians to collaborate with.