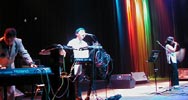 CLONE: Preaching life through electronic music
An electronic, eclectic trio emerges from their workroom with an adult taste in songwriting and a truckload of gear.
By Girl Chakra
published in: Localvibe.com
December 9, 2000

"Tell me where I must go to find the self that I left behind? / Is it burnt by the embers, buried deep in your mind?" -- from "Past November" by CLONE
This is the first song I am subjected to in this tiny place which the group fondly calls The Workroom. It is one of two rooms in this apartment rented by bandleader Lionel and his wife, and is located in a 5-storey apartment complex in San Antonio Village Makati. And it is hot. Hot enough for the fan to be blowing full-blast in our faces, yet still have no effect.
___ I have been invited here as a witness to the bizarre chemistry that has made three admittedly nerdy individuals create a musical unit that is electronic but ironically, full of spirit. Seeing it firsthand is a pleasant shock.
___ It boggles the mind how a band with only three members can have so much stuff and bring it all out on the road for a gig. Then again, it makes sense. In place of a drummer, they have four separate tone generators that churn out drum patterns and sounds. In place of everyone else, they have three keyboards, two MIDI sequencers, and three samplers. Oh, and let's not forget the microphones. (Suddenly, they seem like antiquated pieces of machinery.)
___ The band is halfway through the piece, a neo-Goth song crossing the perimeters of Massive Attack and Moloko, and embellished with electronic squiggles and squawks, when a knock on the door distracts everyone. It is apartment security. Someone downstairs has complained about the bass woofer being so strong, the room below us vibrates. The volume level is turned down, as is the bass level. But the practice goes on.
___ It is a humid November evening, only 7:45 pm. And it still feels like summer.
Welcome to the life of CLONE.
*
The easiest way to describe them is to say they are unwilling rockstars.
Lionel Valdellon (keyboardist, composer) is an online content editor for a website development company, aside from being a comics artist (in his free time) and a former LocalVibe columnist. Karlo Samson (keyboardist, samplist) is a manager at a financial portal (also an IT business) and rides his Vespa scooter around the country when he has time. Sheerin Castillo (vocalist) is finishing up her masteral studies in psychology aside from helping run a family business. They aren't the kind of folks who'd give up their stability for a chance to sign a recording contract.
___ And yet, here they are, a decade since they were last teenagers, engaging in the eternally adolescent fantasy of rock 'n' roll gigs and catharsis through music. What for?
___ "There's a history to this. Sheerin and I started out in a cover band called Anima," shares Lionel, for the umpteenth time it seems. "We would play Earth Wind & Fire songs till our ears bled. Nakakasawa grabe!"
___ "The band was great, the members were awesome musicians, and we made us some money, but we weren't going anywhere as a band," adds Sheerin as she grabs more chips.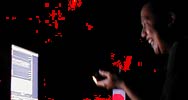 ___ And so Lionel decided to do something about it: he'd been making electronic music for almost an entire year before Anima broke up, and had lots of little compositions. He booked himself a couple of gigs at OraCafe in Quezon City and invited Anima's drummer Andre Quimpo to accompany him live on drums. The result was CLONE. Karlo joined for the remainder of the OraCafe gigs and Sheerin joined in time for the group's first major performance at the Music Museum in August 1999.
So... Clone is a product of frustration? An outlet for artistes?
Karlo says: "Not that there's no frustration now, ano. I mean, we play gigs for dead audiences with polite applause. We lug around our gear... Imagine this ha? All our gear plus Lionel and myself-- that fills up a whole car. Sheerin has to bring her car or she won't fit."
___ Lionel: "Actually that's why we don't play covers in CLONE. This group was formed precisely to play the music that we want to make."
*
One other thing is obvious from the time at The Workroom. The three are good friends. And highly intelligent. Result: their humor is twisted and existential and damn funny. And they like spending time together. Conversations naturally deviate from typical topics like music, MP3s and Internet to how CLONE is actually a numerologically-sound name which might bring them good luck, or how the problem with the Philippines is actually karmic in nature.
___ Turns out Sheerin is an amateur astrologist and palm reader. She takes a look at the lines on my hand while the two boys go "Tsk tsk" in their respective corners knowing that I'm in for something, though I'm not sure what.
___ She tells me I am engaged in a stressful occupation and that my salvation will come only by promoting CLONE to readers on the World Wide Web. Then everyone starts laughing, including me.
*
The next week, I am present at their performance in Freedom Bar at a variety show entitled Strange Daze. Apt title, I note. Because apart from Clone's trip-hop/electronic new romantic musings, there is a prog-rock band, an acid jazz/world group, a blues band, and Radiohead wannabes.
The trio tell me about the music they like listening to.
"Ako na siguro yung the most 'pop'. I listen to Julia Fordham, EBTG, Patti Austin, Noa, Brand New Heavies, the Corrs, Amy Grant," shares the bubbly Sheerin.
___ From Lionel: "Ako, all those eclectic trip hop /ambient techno groups mixed with with elements of jazz: Moloko, Stereolab, The Orb, Orbital, Massive Attack..."
___ Karlo ticks off more on his listening list: "My flavor of the month is an electronic group from Mexico called Titan. But I've always liked Propellerheads, Hooverphonic, Morcheeba, Bjork, Portishead."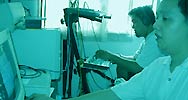 They've set up already and are waiting to start the night. Karlo tells me the band requests as often as possible if they could be the first performer if it's a variety-show type gig. This gives them the comfort of taking 10-15 minutes to set up their gear.
Lionel: The amount of gear we bring is terrible! Karlo: And we have no roadies!
Sheerin: And it's dark.
Karlo: And the damn fans can't keep their hands off our gorgeous asses.
All: (laugh uproariously)
Despite the number of times they explain how their set-up works, all I am able to assimilate is this: half of their songs are totally MIDI-- meaning they press the PLAY button and improvise on top of the set song structure. The other half is totally live, with all instruments being played above an endless rhythm loop generated by the samplers.
___ An interesting way to play in this day and age of prefabricated pop music by cloned teenage groups, and over-angsty rap-metal hybrids screaming instead of singing.
___ "The only problem about being an indie band with an alternative to the alternative sound is: There are hardly any gigs. And no high-paying gigs," says Sheerin.
___ Karlo adds: "You know what's harder? Faking actual playing when all we do is press PLAY. Heheheeh." "But at least, we call the shots. People know up front that we won't play requests. They know we play our OWN songs," remarks Lionel emphatically. "You have more control with an indie set-up. You can call the shots. As a band we like calling those shots, unfortunately, we can barely manage ourselves. Skeds, priorities. Sometimes it's nice just following someone who does all the booking for you... and then we can go: "I like that, I don't like this.." Karlo shares: "Seriously, it's a lot more fulfilling than playing pop crap."
___ Sheerin again: "It's fun and I agree with Karlo that it's fulfilling, but I must add : it doesn't pay the bills."
___They all smile. And now I know why they wouldn't give up their dayjobs. Clone is a project band, an outlet. A vehicle for expression. Therapy. If it ever becomes a job, a little of the soul I detect in their music may just erode.
*

PART 2 of the interview : Ready or Not, Here they Clone.
Back to Press