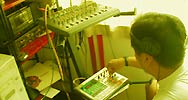 CLONE: Preaching life through electronic music
An electronic, eclectic trio emerges from their workroom with an adult taste in songwriting and a truckload of gear.
By Girl Chakra
published in: Localvibe.com
December 9, 2000
PART 2 of the interview : Ready or Not, Here they Clone.
And, just like alternative music a decade ago, the problem exists: is the Philippines ready for music like Clone's?
___ Sheerin sounds off first. "Siguro ... It's kinda an underground movement still. Although mainstream bands like Passage are going that route already. Its not popular, but there is a silent following."
___ Karlo adds: "It's not being accepted as much as we'd like. If it were up to us, we wouldn't want any acceptance at all. We want to offend as many people as possible! Seriously, electronic music is sadly becoming trendy. Too many people getting into it because it's an IN thing, instead of getting into it because they want to explore new musical horizons."
___ Lionel says: "Dance music is getting to be a global language. Except here, we lag behind a bit in terms of musical education and exposure. So even acceptance of bands like us in mainstream venues like maybe, Virgin Cafe? Dream on. Electronic dance music is steadily becoming more and more visible and audible in pop culture... ads and trailers and soundtracks all have techno... but a lot of people here still don't know enough about it to appreciate it."
___ But there is hope, they all agree. With hundreds of people imbibing cheesy trance music like the latest fashion, who knows how open the market will be to Clone's brand of jazzy, adult contemporary electronica? So what if trance is a trend? It's a start.
*
The band takes the wide stage at Freedom, now filled with their keyboards and assorted machines and plunge into their world of dense beats and layers of lush synth pads. It is a dark, almost sinister place, but the words which anchor the music reveal hope.
___ The song they begin the set with, according to songsmith Lionel, is called "Presence" and is based on a 14th century Renaissance piece, complete with church organ and harpsichord. Sheerin launches into a chorus which contains the words: "Only in Your presence is the peace I search for, my soul yearns for you." It is a song of repentance and longing and yearning, that approaches the liturgical while knee-deep in secular, some might say seductive, rhythms.
___ One by one, they go thru their set. There is "Silent Room", a song dedicated to political prisoners the world over. There is "Cry", another song of longing and despair but coupled with a bouncy house beat. There is "Walk The Line", based on the parable of the Prodigal Son. There is "Vigil" which was inspired by Aeschylus' play 'Agammemnon'. There is "Nothing Yet" which contains stanzas with 5 syllables and a chorus which sounds like it belongs to a progressive alt-rock band. It's a step above the usual drugs, girls and parties type of lyrics that typify a lot of modern music, and just a step below pure, free form poetry. Clone will not play down to their audience. The question is: if the audience gets what they're about.
___ The person beside me, a buff, long-haired Pinoy musician who's vacationing here from playing in Korean clubs, introduces himself. He's seen me talking with Clone and tells me he loves their music. But that the crowd isn't ready for the music.
___ "Kita mo naman, di nila ma-gets yung tugtog ng Clone. Pero ang ganda! Parang Depeche Mode na mas malalim pa ang lyrics. Alam mo, sa Europe, kakainin ang tugtog nila. Dito? Hindi pa siguro ready."
*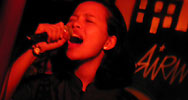 At the end of their set, they pack up without a word, stow their gear back in their vehicles downstairs, and return to enjoy the rest of the show, beers in hand.I ask them the two questions which have been bugging me since the start.
So. Do you consider yourselves a Christian band? And, is it important to include themes and topics which you feel strongly about-- sort of like preaching?
___The three look at each other, not expecting this. When the answers come, they are carefully worded.
___Lionel: "We don't exactly consider ourselves a Christian group, although our beliefs are primarily Christian. I guess our music reflects what we believe in: Love, a greater force, compassion, human folly. We might dabble in music that seem liturgical, but it's done because we're proud of what we believe and want people to hear something more from us that they might not hear from other groups. And that's in terms of both lyrics and music."
___ Sheerin adds: "There is so much music out there which is the same. We want Clone to offer something different."
___ Karlo: "That may sound trite and over-used. But this music is one side to who we are and what we stand for. And that's why it can't be cover songs, it can't be other people's words. It has to be ours for it to mean something."
* END *
Relevant Links:
Clone's Official Website: http://reclone.tripod.com
Clone's e-mailing list: send an email to: reclone-subscribe@yahoogroups.com
Back to Press