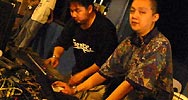 MP3MANILA.com FEATURED ARTIST INTERVIEW: CLONE
by Nico Africa & Wincy Ong
MP3Manila.com, June 2001
In June of 2001, CLONE was Artist of the Month on the now-defunct MP3MANILA website, we were able to take a screenshot and archive the interview. here it is in its full glory.
What instruments do you guys play respectively?
Lionel: Well, I play keyboards and I sequence everything on the keyboard. Karlo plays the samplers and Sheerin sings.
Sheerin: And we write songs.
How was the band formed? How long have been playing together?
Lionel: The band's been together for two years. We started in January '99. It started off with just one guy. That's me. Then later on, I got some of my friends. See, I came from a pop cover band called ANIMA. We used to play Earth, Wind and Fire covers. We were in it to get somewhere. Sheerin was with me. We loved playing it (the music), and at that time, that was the only way you could get gigs. There wasn't much of an underground scene, so you had to play stuff which would sell out. After four years, we got sick of it. I decided, "Hey, why don't I put all these compositions out and perform them, or something." That's how Clone started.
So now, you're in an underground band? Would you consider yourself underground?
Lionel: Yes, very much so. Underground because there's no money! (laughs)
Sheerin: And we haven't come out. So we're underground.
Lionel: We haven't really come up with an album.
Your name sounds really underground. Clone. Where did it come from? What's in a name?
Lionel: What's in a name... Well, actually the idea way back was a group of Kaneda's Clones. It's inspired by the Akira Anime. But when someone did some amateur numerology on the name, he said "You know it's better if it's just Clone. He did all this number thing, and said it has better luck. I just loved the movie. And besides, the music was fantastic. It got us thinking. Well, it got me thinking.
So you found your love in electronica.
Lionel: Yeah.
Why the transition from pop to electronica?
Lionel: The truth is, I've been listening to it all these years. Everyone (in ANIMA) was listening to pop and rock. I was listening to electronica while I was playing Earth, Wind and Fire. After a while I said, you know, "I'll just play what I enjoy." That's how Igot these other guys to come and join me. I said, "Hey, come on. Let's do something different."
You call your music "adult contemporary electronica." How is it different from your regular, run-off-the-mill electronica/techno/industrial? Is it something you made up?
Lionel: Yeah, it's a term we made up; in the same way that there is "adult contemporary pop," you know. Because the themes that we talk about and the way that we do the music is not half-hazard and amateur. We like to think that it's not amateur; like more of the thinking person's electronica.
Sheerin: It's angsty.
It's not for dancing also?
Lionel: Yeah, it's not always for dancing. We actually like a lot of our music (to be) down tempo, you know. Kind of dark, kind of trip-hop, kind of Portishead, Morcheba, Massive Attack. Those are the bands we like.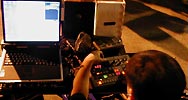 You have been exposed to all types of musical genres, including religious. How do you come up with a particular mindset when creating for these two very different styles?
Lionel: Well, actually, no. It's not very different. Actually, you can apply electronic styling to a religious song. Since we both come from the Bukas Palad Music Ministry, we both are actually active. I play for them. She sings.
So do you think God and synthesizers mix well?
Lionel: Yeah, sure. God mixes with anything.
Sheerin: Yeah, even in Bukas Palad we used those (synthesizers).
Lionel: And actually, I've also been helping Bukas Palad to modernize some of their sounds. So some of our minus-ones are more upbeat and more techno.
How easy is it for you guys to line up gigs?
Sheerin: That's not easy, actually. We haven't been actively searching for gigs too. We have other jobs and other concerns, that's why we haven't been "out."
Lionel: And also, a lot of the venues aren't too knowledgeable and open about what we play. So, what we do is we team up with other underground bands, and if they have a gig, (they say) "Hey, come on. Let's join you in with that one." It's a lot better. There's a community that's built. It's not exclusively electronica. Just indie guys who respect each other's work, no matter what genre.
Sheerin: Yeah, because it (the music) doesn't really draw in the crowd yet, since it's underground. But, i think there's a following somehow.
Lionel: We've actually teamed up with everyone from rockers like First Degree, weird ambient groups like Synactix, to indie pop groups like Sugar Free and Ciudad. So, you know, it's like "Come on, let's band together and make gigs 'cause no one else will." (laughs)
Do you have any plans of going professional and getting a major label?
Lionel: It would be nice, but it's not in our hands. Right now, we enjoy this being indie, gigging sporadically. Although we did give out demos way back, they probably realized, you know, listening to it, that there's no market for this.
Do you get a lot of support from you families or significant others?
Lionel: You answer that, Sheerin.
Sheerin: Sometimes they watch... 'cause we give free tickets. (laughs)
Lionel: All in all, they kind of look at us and wonder, "What do you see in it?"
Sheerin: Parang, "Why don't you do something more pop?"
Do you find yourselves trying to explain it to them?
Lionel: We try to explain it to them, but it's not their kind of thing. Even with our families and even with our friends, we're kind of still on our own. So, OK lang.
Do you mean to change / affect society with your music?
Lionel: Well, it's not in our hands. Parang, if there's an effect, it's not something that we planned. But you know, if ever, it's hopefully because in the music that we write we try to talk about things that are more than just love and crushes and sex.
Do you think it's possible that this type of music will be mainstream sometime in the future?
Sheerin: Sure.
Lionel: I hope so. But I don't see it in the next two years.
Sheerin: A decade probably.
Lionel: A decade, or maybe five years.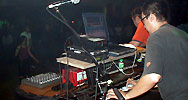 But if you check out Mp3Manila, there's a lot of people doing electronica. And if you go to Malate, lots of people dig electronica music.
Lionel: Yes they do. That is actually the market that we're trying to tap with our gigs. We'd like to get that audience. However, also think about it this way. The people who go to Malate, who party there with all the techno vibe, are actually there to dance, to party, and to have fun. But our music's not fun. Well, not always.
Sheerin: Well, we are evolving. So I can't really say that we are not gonna get into that.
Lionel: Some of our songs are this way, some are that way.
For you guys, Clone is not the only thing, right? So what's a typical day for you, with and without Clone?
Lionel: Well, for myself and for Karlo, we're both in the I.T. business. I help out doing websites. Karlo is actually marketing manager for another dotcom. Sheerin?
Sheerin: I'm taking my masters. And I'm finishing my thesis. I'll teach (Psychology) next semester.
Lionel: So we're actually full-time regular people. (laughs)
So how does Clone fit in? What's its role for you guys?
Lionel: For me it's an outlet.
Sheerin: It's another outlet.
Lionel: An expressive, creative outlet.
So if you could afford to, and if it were viable, would you quit your day jobs to go full time with Clone?
Lionel: I'd love to! But it's not viable! That's the truth.
Sheerin: Me, a, well I don't know. Honestly, you know, you have a plan that you want to follow. I'm not sure, I might go to grad school, so it's not really a priority.
But it's a passion? Would you call it that? Something you really love to do?
[pause]
(laughs)
Lionel: For me it is.
Sheerin: Yeah, otherwise I wouldn't be here.
Lionel: For me, actually, the passion is more in the making of the music, rather than the performing / recording.
Any words of advice for our listeners, both here and abroad?
Lionel: On the musician's side, my words of wisdom would be, really, if you're going to join a band or start a group, a musical group, play what you enjoy. 'Cause you can't spend four years of your life playing cover tunes in a showband. It's a waste of time. It's a waste of talent. Know where your heart is.
Sheerin: And if you're really passionate about something, explore it. Do it. Don't wait. Sayang, eh.
'Cause one day you'll just be too old for rock 'n roll. Eh, what if your passion is with showbands?
Lionel: Then go for it! (laughs) If your passion is like Britney Spears or Christina Aguilera, go for it! (laughs) As long as you can do it with conviction.
Sheerin: And go beyond them.
All: Yes.