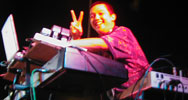 Lionel Zivan S. Valdellon
+ programmer, composer, keyboardist, vocalist
Electronic music was never the plan. As it is, the 30-plus-year-old musician, producer and multi-instrumentalist zaps between nerve-wracking requirements for his dayjob as online content editor and gruesome gig logistics for CLONE, his solo project ACID42 and an acoustic guitar gig.
___ He's cut his teeth as musical director for 5 church choirs in his lifetime, as musical director and keyboardist for the defunct cover band ANIMA, as freelance musical director for several top-rated TV shows on ABS-CBN, as instrumentalist for Bukas Palad Music Ministry and even as a recording artist with his duo album Vespers, under the Jesuit Music Ministry, distributed under BMG-Pilipinas.
___ And to think, in his first high school garage band, he was a drummer.

Link: Lionel's personal webpage, the AcidPit.