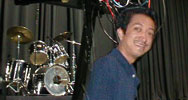 Andre Quimpo
+ drummer, percussionist
Before CLONE, he was manic prog-jazz drummer for several rock and then pop-jazz outfits, honing his skills as a session drummer and teacher.
___After CLONE, he entered the world of the academe and is now teaching high school kids in one of the top universities in the country. Because his job and family demands all his time, Andre joins the group when he can, augmenting the machine rhythms with his non-quantized human beats.